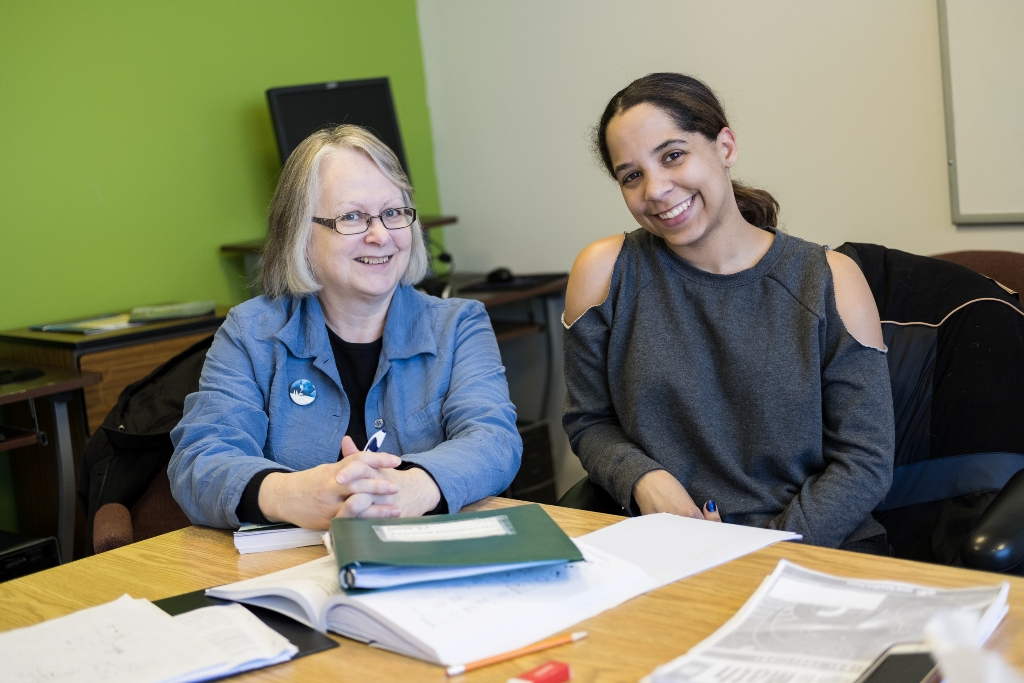 If you want to make a meaningful and lasting impact on the life of another, then look no further. You've come to the right place.
Our Community Learning Program provides adults with the highest quality of individual academic support possible, free of charge, thereby creating opportunities to increase their knowledge, improve their skills and develop confidence.
With your help, our learners' lives improve. They can better function and cope in their day-to-day lives (e.g., shopping, banking, health care), they are better able to meet the needs of their children/grandchildren, they experience more success in the workforce and they move on to further their education.
While most of you are probably thinking about how you are going to spend your summer vacation, we encourage you to also think about the fall and tutoring an adult learner next year.DLN Instructor Amanda Stoddard compiled this video using existing footage and photographs as an assignment for Literacy Nova Scotia's Practitioner Training Program (https://www.literacyns.ca/ptc.htm). Active DLN tutors can take this training free of charge.You can see more video of the volunteers featured in this post on our blog: https://www.dartmouthlearning.net/blog/meet-a-volunteer/. Much thanks to videographer and former staff member Tyler Colbourne.

Posted by Dartmouth Learning Network on Thursday, May 2, 2019
"Literacy empowers people, enables them to participate fully in society and contributes to improved livelihoods. Literacy is also a driver for sustainable development in that it enables greater participation in the labour market; improved child and family health and nutrition; reduces poverty and expands life opportunities."
— United Nations Educational, Scientific and Cultural Organization
Visit our blog page to see more volunteer and learner stories
Volunteer Qualifications
High School Diploma/GED Certificate or equivalent, with good reading and writing skills
Ability to take direction and to work collaboratively with staff and other volunteers
Ability to maintain confidentiality; have patience; be non-judgemental
Basic computer literacy, or willingness to learn
Be 19 years or older
Volunteer Screening
The Dartmouth Learning Network is committed to providing a safe environment for our learners, staff, and volunteers. We follow the Standard of Care: Ten Steps of Screening – The Canadian Code for Volunteer Involvement To that end we support and follow Volunteer Canada's Volunteer Screening Guidelines. We will assess each volunteer assignment based on the following criteria:
The participant's goals and needs
The activities the volunteer assignment entails
The location of the volunteer assignment
The level of supervision during the volunteer assignment
Each potential volunteer will be required to:
Complete a volunteer application form
Attend an interview
Attend a volunteer orientation
Take advantage of opportunities to develop and grow their skills as a volunteer
Complete a Criminal Records Check (based on volunteer activity)
Dartmouth Learning Network will:
Provide each volunteer with a meaningful volunteer assignment that reflects their skills, interests, needs and background.
Provide a clearly written position description for each volunteer assignment
Provide on-going support and supervision for each volunteer assignment
Provide access to relevant training opportunities
Provide follow-up, feedback, and support to each volunteer regarding their assignment
Tutor Training
Dartmouth Learning Network makes every effort to provide training that connects volunteer tutors with the tools and resources necessary to support an adult learner. Throughout the academic year, tutors are provided with opportunities to participate in workshops and training events relevant to adult literacy in Nova Scotia. Training topics can include, but are not limited to:
Student learning plans, goal setting and evaluation
Reading, writing and math strategies
Lesson planning
Online tools and resources
Follow up training on relevant literacy topics (scheduled as needed)
As a volunteer tutor with Dartmouth Learning Network, you also will have free access to The Nova Scotia Literacy Practitioner Training and Certification Program (https://www.literacyns.ca/ptc.htm) valued at approximately $750.
Tutors will also have the option of shadowing a class to gain hands-on experience under the direction of an instructor before accepting a one-to-one or small group tutoring assignment.
The teaching skills you learn in the training workshop(s) will benefit your work with your learner and may assist in other areas of your work/volunteer activities.
There is no cost to you for these learning opportunities. All we ask is that you make a six to twelve-month commitment to help an adult learner reach their learning goals.
Dartmouth Learning Network Commitment to Our Volunteers
Access to professional development opportunities
Up to date adult teaching and resource materials
A friendly and professional working environment
Comfortable and secure lesson locations
Regular updates of events
Ongoing support as needed
Thank you for your interest in becoming a volunteer.
Click Here To Apply Online